Star Hopping Field Notes are your Key to successful Deep Sky Object location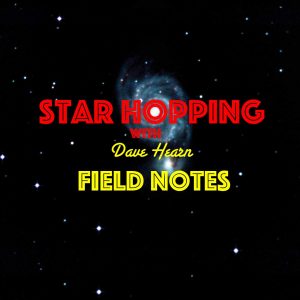 Thanks for your interest in my Star Hopping Field Notes digital guides. For every one of my episodes of Star Hopping, I create one of these documents. These great reference guides are basically the script of the show, but I add images of the deep sky objects being presented. And even more importantly, I present the star charts annotated with the star hopping steps used to locate each object.
These guides are available individually, in Season Bundles, or by subscription.
For an example of what these guides offer, Click here to view the Field Notes for Episode 5 of Star Hopping.
---
Subscriptions
This is the best way to make sure you don't miss a single episode of Star Hopping Field Notes.
With a Digital Subscription, the episode PDF documents will be delivered to your inbox after each episode of Star Hopping is published. It'll only cost you a small amount (less than a cup of coffee!) each month via PayPal, and you can cancel at any time before the subscription term is completed and won't be charged the remaining payments.
6 Months of Field Notes
Price: $2.50 per month for a total of $15.00.
12 Months of Field Notes*
Price: $2.00 per month for a total of $24.00.
*Best Deal!
---
Season Bundles
These bundles will give you Field Notes for all the Deep Sky Objects I've covered in Star Hopping, for a specific season, generally a three month period.
Price varies per bundle based on the number of included episodes. Click on the links below for more details: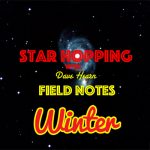 Winter (December, January, February)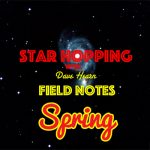 Spring (March, April, May)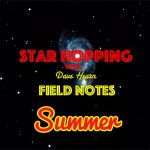 Summer (June, July, August)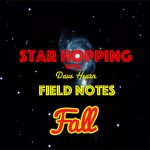 Fall (September, October, November)
---
Individual Episodes
If you happened to miss getting the Field Notes for a specific episode, they are available here. You can enter any value into the Search box:
Episode Number ("SH039")
Month of the Year (January", "April", etc)
Constellation ("Scorpius", "Orion", etc)
Object Catalog Entry ("M5", "NGC7009", etc)
Object Proper Name ("Orion Nebula", etc)
Object Difficulty ("Easy", "Moderate", "Difficult")
Object Type ("Nebula", "Open Cluster", "Galaxy", etc)
So let's say you wanted to find all Field Notes and deep sky objects we covered during the month of June; all you would have do is enter "June" into the Search box.
As you type, the list will be filtered for you, and the list of Field Notes fitting your search value will be displayed. If there are more that 10 documents returned, you can use the arrows at the bottom of the table to see then next page, or use the dropdown to display more Field Notes documents.
After you have the list you are looking for, just click on the Episode Number link to visit that Field Notes document's download page.
| Episode Name | Month | Constellation | Object | Proper Name | Difficulty | Type |
| --- | --- | --- | --- | --- | --- | --- |
| SH001 | October | Sagittarius | M8 | Lagoon Nebula | Easy | Nebula |
| SH001 | October | Sagittarius | M20 | Trifid Nebula | Easy | Nebula |
| SH001 | October | Sagittarius | M22 | | Moderate | Globular |
| SH002 | October | Andromeda | M31 | Andromeda Galaxy | Easy | Galaxy |
| SH002 | October | Triangulum | M33 | Triangulum Galaxy | Difficult | Galaxy |
| SH002 | October | Perseus | NGC869,884 | Double Cluster | Easy | Open |
| SH003 | October | Lyra | M57 | Ring Nebula | Easy | Planetary |
| SH003 | October | Vulpecula | M27 | Dumbbell Nebula | Difficult | Planetary |
| SH003 | October | Pegasus | M15 | | Moderate | Globular |
| SH004 | October | Taurus | M45 | Pleiades | Easy | Open |
| SH004 | October | Taurus | M1 | Crab Nebula | Moderate | Supernova |
| SH004 | October | Auriga | M37 | | Moderate | Open |
| SH005 | October | Aquarius | NGC253 | Sculptor Galaxy | Moderate | Galaxy |
| SH005 | October | Aquarius | NGC7293 | Helix Nebula | Moderate | Planetary |
| SH005 | October | Capricornus | M30 | | Moderate | Globular |
| SH006 | November | Orion | M42 | Orion Nebula | Easy | Nebula |
| SH006 | November | Orion | NGC2024 | Flame Nebula | Moderate | Nebula |
| SH006 | November | Orion | Barnard33 | Horsehead Nebula | Difficult | Nebula |
| SH006 | November | Orion | M78 | | Moderate | Nebula |
| SH009 | November | Monoceros | | Rosette Nebula | Moderate | Nebula |
| SH009 | November | Monoceros | | Christmas Tree Cluster | Moderate | Open |
| SH009 | November | Gemini | M35 | | Moderate | Open |
| SH010 | December | Canis Major | M41 | | Easy | Open |
| SH010 | December | Puppis | M46 | | Difficult | Open |
| SH010 | December | Puppis | M47 | | Difficult | Open |
| SH010 | December | Canis Major | NGC2362 | Mexican Jumping Star | Moderate | Open |
| SH012 | December | Ursa Major | M81 | Bode's Galaxy | Difficult | Galaxy |
| SH012 | December | Ursa Major | M82 | Cigar Galaxy | Difficult | Galaxy |
| SH012 | December | Cancer | M44 | | Easy | Open |
| SH013 | December | Lepus | M79 | | Moderate | Globular |
| SH013 | December | Fornax | NGC1365 | | Difficult | Galaxy |
| SH013 | December | Fornax | NGC1316 | Fornax A | Difficult | Galaxy |
| SH014 | January | Leo | M65 | Leo Triplet | Moderate | Galaxy |
| SH014 | January | Leo | M66 | Leo Triplet | Moderate | Galaxy |
| SH014 | January | Leo | NGC2903 | | Easy | Galaxy |
| SH016 | January | Ursa Major | M106 | | Moderate | Galaxy |
| SH016 | January | Ursa Major | M101 | Pinwheel Galaxy | Moderate | Galaxy |
| SH016 | January | Canes Venatici | M51 | Whirlpool Galaxy | Easy | Galaxy |
| SH017 | January | Canes Venatici | M63 | Sunflower Galaxy | Moderate | Galaxy |
| SH017 | January | Coma Berenices | M64 | Black Eye Galaxy | Moderate | Galaxy |
| SH017 | January | Coma Berenices | NGC4565 | Needle Galaxy | Difficult | Galaxy |
| SH023 | March | Bootes | M3 | | Moderate | Globular |
| SH023 | March | Corvus | NGC4028 | Antennae Galaxies | Moderate | Galaxy |
| SH023 | March | Corvus | M104 | | Moderate | Galaxy |
| SH025 | March | Hercules | M13 | Hercules Cluster | Moderate | Globular |
| SH025 | March | Hercules | M92 | | Moderate | Globular |
| SH025 | March | Serpens | M5 | | Easy | Globular |
| SH030 | April | Centaurus | M83 | Southern Pinwheel Galaxy | Difficult | Galaxy |
| SH030 | April | Centaurus | NGC5128 | Cent A, Hamburger Galaxy | Moderate | Galaxy |
| SH030 | April | Centaurus | | Swan Nebula | Moderate | Globular |
| SH031 | May | Ophiuchus | M10 | | Moderate | Globular |
| SH031 | May | Ophiuchus | M12 | | Moderate | Globular |
| SH031 | May | Scorpius | M4 | | Easy | Globular |
| SH032 | May | Scorpius | M6 | | Easy | Open |
| SH032 | May | Scorpius | M7 | | Easy | Open |
| SH032 | May | Scorpius | M62 | | Moderate | Globular |
| SH033 | May | Scutum | M11 | Wild Duck Cluster | Moderate | Open |
| SH033 | May | Scutum | M16 | | Moderate | Nebula |
| SH033 | May | Sagittarius | M17 | | Difficult | Nebula |
| SH034 | May | Cygnus | | Coathanger | Easy | Open |
| SH034 | May | Cygnus | NGC6690 | Veil Nebula | Moderate | Supernova |
| SH034 | May | Cygnus | NGC7000 | North American Nebula | Moderate | Nebula |
| SH035 | June | Sagittarius | M25 | | Moderate | Open |
| SH035 | June | Sagittarius | M28 | | Easy | Globular |
| SH035 | June | Sagittarius | M55 | | Difficult | Globular |
| SH036 | June | Sagitta | M71 | | Moderate | Open |
| SH036 | June | Aquarius | M2 | | Moderate | Globular |
| SH036 | June | Pegasus | M15 | | Easy | Globular |
| SH037 | June | Cassiopeia | M103 | | Easy | Open |
| SH037 | June | Cassiopeia | NGC457 | E.T. Cluster | Easy | Open |
| SH037 | June | Cassiopeia | NGC7789 | Caroline's Rose | Moderate | Open |
| SH038 | June | Cepheus | | Cocoon Nebula | Difficult | Nebula |
| SH038 | June | Cepheus | | Iris Nebula | Difficult | Nebula |
| SH038 | June | Cepheus | NGC6946 | Fireworks Galaxy | Difficult | Galaxy |
| SH039 | June | Perseus | | Heart & Soul Nebulae | Difficult | Nebula |
| SH039 | June | Perseus | M34 | | Easy | Open |
| SH039 | June | Perseus | NGC891 | | Moderate | Galaxy |
| SH040 | September | Andromeda | M76 | Little Dumbbell Nebula | Moderate | Planetary |
| SH040 | September | Andromeda | NGC752 | | Easy | Open |
| SH040 | September | Andromeda | NGC281 | PacMan Nebula | Moderate | Nebula |
| SH041 | October | Cetus | NGC247 | | Moderate | Galaxy |
| SH041 | October | Sculptor | NGC779 | | Moderate | Galaxy |
| SH041 | October | Sculptor | NGC55 | | Difficult | Galaxy |
| SH042 | October | Auriga | M36 | | Easy | Open |
| SH042 | October | Auriga | M38 | | Easy | Open |
| SH042 | October | Auriga | IC405 | Flaming Star Nebula | Difficult | Nebula |
| SH043 | November | Orion | NGC2174 | Monkeyhead Nebula | Moderate | Nebula |
| SH043 | November | Gemini | IC443 | Jellyfish Nebula | Moderate | Supernova Remnant |
| SH043 | November | Gemini | NGC2392 | Eskimo Nebula | Difficult | Planetary |
| SH044 | November | Orion | NGC1977 | Running Man Nebula | Easy | Nebula |
| SH044 | November | Orion | IC2118 | Witch Head Nebula | Difficult | Nebula |
| SH044 | November | Monoceros | NGC2261 | Hubble's Variable Nebula | Moderate | Nebula |
| SH045 | December | Canis Major | IC2177 | Seagull Nebula | Difficult | Nebula |
| SH045 | December | Gemini | Abell 21 | Medusa Nebula | Difficult | Planetary |
| SH045 | December | Hydra | M48 | | Easy | Open |
| SH046 | December | Camelopardalis | NGC 2403 | | Moderate | Galaxy |
| SH046 | December | Ursa Major | M108 | Surfboard Galaxy | Moderate | Galaxy |
| SH046 | December | Ursa Major | M97 | Owl Nebula | Moderate | Planetary |
| SH047 | January | Leo | M95 | | Difficult | Galaxy |
| SH047 | January | Leo | M96 | | Difficult | Galaxy |
| SH047 | January | Leo | M105 | | Difficult | Galaxy |
| SH049 | February | Canes Venatici | M94 | | Moderate | Galaxy |
| SH049 | February | Canes Venatici | NGC5033 | | Difficult | Galaxy |
| SH049 | February | Canes Venatici | NGC4631 | Whale Galaxy | Moderate | Galaxy |
| SH051 | March | Coma Berenices | M85 | | Moderate | Galaxy |
| SH051 | March | Coma Berenices | M88 | | Moderate | Galaxy |
| SH051 | March | Coma Berenices | M91 | | Difficult | Galaxy |
| SH052 | March | Leo | NGC3521 | | Moderate | Galaxy |
| SH052 | March | Sextans | NGC3115 | Spindle Galaxy | Moderate | Galaxy |
| SH052 | March | Hydra | NGC3242 | Ghost of Jupiter | Difficult | Planetary |
| SH056 | May | Draco | NGC 5907 | Splinter Galaxy | Moderate | Galaxy |
| SH056 | May | Draco | M102 | | Moderate | Galaxy |
| SH056 | May | Draco | NGC 6543 | Cat Eye Nebula | Difficult | Planetary |
| SH057 | NA | NA | NA | NA | NA | NA |
| SH058 | June | Cygnus | IC1318 | Gamma Cygni Nebula | Moderate | Nebula |
| SH058 | June | Cygnus | NGC6888 | Crescent Nebula | Difficult | Nebula |
| SH058 | June | Lyra | M56 | | Moderate | GLobular |
| SH061 | October | Cepheus | IC1396 | Elephant's Trunk Nebula | Moderate | Nebula |
| SH061 | October | Cassiopeia | M52 | | Difficult | Open Cluster |
| SH061 | October | Andromeda | NGC7662 | Blue Snowball Nebula | Moderate | Planetary |
| SH062 | January | Camelopardalis | IC 342 | | Moderate | Galaxy |
| SH062 | January | Cassiopeia | IC 59-63 | Gamma Cassiopeia Nebula | Moderate | Nebula |
| SH062 | January | Cepheus | NGC 7635 | Bubble Nebula | Difficult | Nebula |