Star Hopping is the best way to Learn the Night Sky.
Become an Expert in locating beautiful Deep Sky Objects
Our goal here at Star Hopping is to take you on a journey. A journey from where you start out enjoying looking at the night sky but have difficulty locating deep sky objects, to a final destination where you find celestial targets with ease, and can share them with your friends and family.
It can be very frustrating being under the stars and spending more time hunting for targets that actually viewing them. With our target location methods, explained though our video tutorials, digital guides, and podcasts, you'll be locating and viewing deep sky objects in no time.
---
Latest Blog Posts
In Episode SH062 of Star Hopping… we'll examine the Camelopardalis region, and locate three targets for the Big Guns, meaning they are challenge objects. We'll find the massive spiral galaxy …

In Episode SH061 of Star Hopping… we'll examine the Cepheus region, and find some "deeper" deep sky objects: IC 1396, the famous "Elephant's Trunk" nebula, the open cluster Messier 52, …

In Episode SH060 of Star Hopping… Star Hopping Returns! In this Star Hopping "Extra", we'll present our documentary of the Great American Eclipse, from our perspective from our selected viewing …
---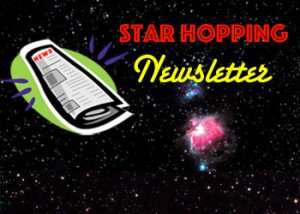 Join our growing community of amateur astronomers, and get your free copy of "The Different Kinds of Galaxies"!