Buying a Telescope and don't know where to Start?
The process of Buying a Telescope is one of the more difficult tasks for people just getting into astronomy. It's challenging to try to figure out what features and options would be best.
Selecting the proper telescope is really an important decision to make, because a great first scope can really kickstart a wonderful lifelong hobby. I get asked about this a lot because it can be a complicated decision. But no worries – we've got you covered.
The Episodes
There are two episodes of Star Hopping in which I covered this interesting topic. I'd recommend that you watch Episode 1 first, as it gives you the background to help you make your decision on what telescope to select. Just click on the movie to play it – you can select full screen if you'd like.
---
Episode 1 – Three Variables to Consider
In the first I discuss the three main variables that you need to consider when buying a telescope. These variables will drive the features you'll need to consider in selecting a telescope that will fit your needs.
---
Episode 2 – Recommendations of Telescopes to Buy
In the second episode I briefly discuss the different types of telescope mounts and the advantages and disadvantages of each. Then we look at some great telescopes that I recommend in several price ranges.
---
The Podcasts
Here are the Podcasts for episodes 7 and 8 of Star Hopping. If you'd like to catch Star Hopping on the go, please consider subscribing. Just click on the respective logo below to subscribe to the show, and have new episodes sent right to your phone or tablet.


SH007 – Telescopes for Beginners, Part 1 – 11/12/2105
In Episode SH007 of Star Hopping, we'll start a two part series in which we'll have a look at buying Telescopes for Beginners; a kind of a Telescope Buyer's Guide.
SH008 – Telescopes for Beginners, Part 2 – 11/19/2105
In Episode SH008 of Star Hopping, we'll complete our presentation on buying Telescopes for Beginners; kids or adults just getting started in the world of Amateur Astronomy.
---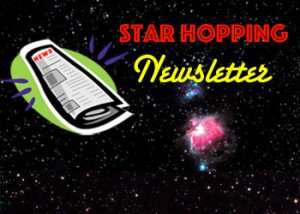 Join our growing community of amateur astronomers, and get your free copy of "The Different Kinds of Galaxies"!